Warning: Having issues resizing in Photobucket tonight and too frustrated to keep fighting with it. Every time I resize, they revert to the original size. Enjoy the enormous pictures!
We had a beautifully relaxing three-day weekend. We spent the weekend at my mom's house and got to see all of my nieces and nephews. The weather could have been more cooperative but it certainly was manageable.
Saturday, a peeking boy who decided to become mobile on Mother's Day could be found going in and out of my parents' house and peeking through the windows.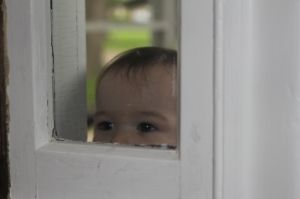 On Sunday, we had a graduation party to go to for a family friend and Jack wore his first bow tie. I say first because I guarantee he will wear them again. Poor child does not have a choice. It was too perfect. I had been watching these ties go cheaper and cheaper on clearance at Target and was waiting for them to hit a reasonable price. Full price = $5. At 70% off, I paid $1.50. Jack doesn't ever wear bibs and rips them off-- always has. Luckily, he wasn't a pukey or slobbery baby so we didn't have to change his clothes constantly because of the lack of a bib. He rocked his new bow tie.
Sunday also featured a mama/baby nap on Nanni's front porch. We get our snuggles when we can.
Thank you to all of my family and friends who made our relaxing weekend possible. Also, a big thank you goes out to all the men and women who selflessly serve in our armed forces.